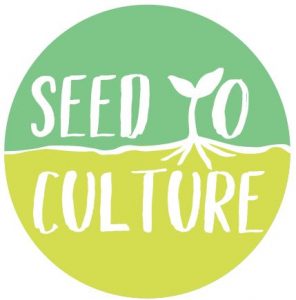 There's a fantastic new store in town! Seed to Culture opened at the beginning of October, and has been selling their local products and produce in a small store front located at 107 7th Avenue, up behind the old Lillooet Foods building.
Jill Miners and Christoph Miles of the Rainshadow Growers Collective are the owners, and they sell both their own products as well as other local farmers'. Jill makes fermented foods like sauerkraut (in a variety of flavours!), dill pickles, pickled carrots, kimchi and kombucha. They are hoping to be making frozen soups within the next couple of weeks, that people can take home to heat up and have a healthy instant meal (words that rarely go together)!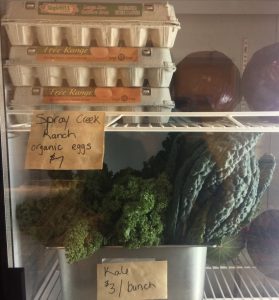 Everything is made there in the commercial kitchen just behind the fridges and cash register. The two are planning to make the kitchen available for rent to other growers and farmers who would like to use the space to process and/or make value-added products. Currently they are carrying Amlec dehydrated goods, One Love Farm produce, Spray Creek eggs and a selection of meat, Gillian's Herbs, Tinctures and Salves, and Felt Me Now succulents in felted bowls. There are products made and grown by Angela at Three Ravens Farmstead: fresh produce – Sieglinde potatoes, onions, leeks, and cabbage, frozen raspberries and some of her beautiful fiber arts and handmade tea towels. They have hearty, homemade soups ready to take home and heat up, as well as "gut shots" – probiotics in liquid form to keep your stomach flora healthy, and help keep those winter colds away! They are also open to selling other products, and say that they are happy to be approached about it.
The kombucha for sale is on tap, so bring your own re-usable container to fill up. Flavours vary,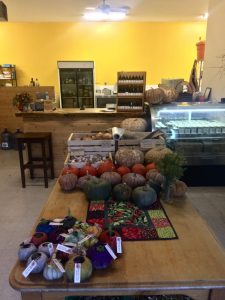 but will be things like Black Tea with Ginger, or Yerba Mate with Lavender and Chamomile. Yum! Other items on the couple's seemingly endless list of things they are able to make out of Lillooet Grown produce are fresh-pressed, raw apple juice (will also be sold frozen) and apple cider vinegar.
Jill and Christoph are hoping to keep the store open year round, which will prove difficult in the summer season with their market attendance. (They go to the Pemberton, Whistler and Lillooet Farmers' Markets on a weekly and bi-weekly basis.) At the moment they are selling at the Riley Park and Hastings Park winter markets in Vancouver.
"We'd like the store to become more of a food hub/year round farmers' market/food co-op with local produce and perhaps even take away items with food all grown and prepared right here." "We'd like to see Lillooet farmers able to sell all their produce here and not have to travel miles and miles each week to other markets."
If you want to go and check it out, Seed to Culture is now open Monday to Friday from 11 to 6pm. I recommend the Kimchi. 😉