This summer, Wren worked hard to glean unwanted or surplus fruit and get it used! Armed with hand-made pickers and a whole lot of passion, Wren did an amazing job gleaning in our community this season.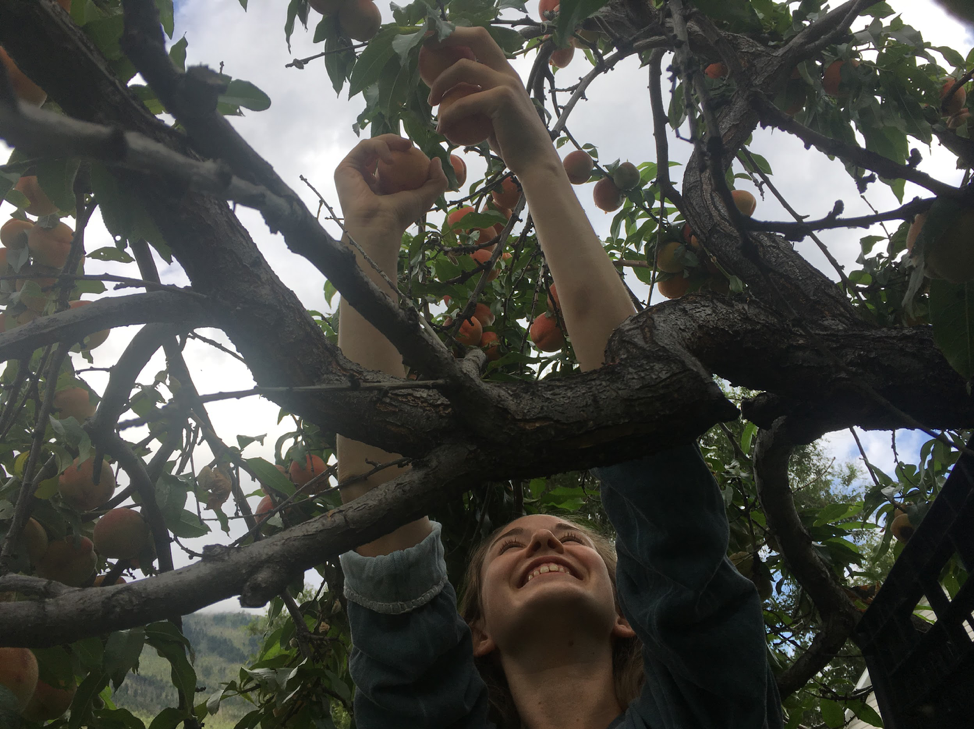 If you don't know what gleaning is, it means collecting of fruit that is not going to be used and finding people and places who would like it! Produce that might have gone to waste becomes a welcome source of fresh food for many who might otherwise go without. – KFPC

Every community does this a little differently, for example, the Kamloops Gleaning Abundance Program donates to community programs including the Kamloops Food Bank, ASK Wellness and Centre for Seniors Information.

"Traditionally the structure of gleaning is organized such that, the pickers receive ⅓ of the fruit, the homeowners receive ⅓ of the fruit, and the last ⅓ goes to a foodbank or other charitable organization. The Lillooet Foodbank did not have the capacity to deal with fresh fruit, and was only open a few days a week. It was important that this free food could still be given to those in need, so some smaller donations were made directly to individuals who could not get there." – Wren Kerslake

This year in Lillooet, donations went to P'egp'íg'lha Community Centre, and several local residents. With a total of 22 trees gleaned, and lots of conversation and connection on the Gleaning for Life Facebook page, for a first year of dedicated gleaning, we were very happy with the project!

"Thank you so much Wren, for doing such an awesome job this summer I can't express how much appreciation I have for all your efforts and how much Wildlife conflict was avoided thanks to the gleaning program." – Jennifer Davidson, District of Lillooet Bylaw Enforcement Officer

A big thank you from all of us! We are planning on continuing the Gleaning Program this fall and starting up again next spring. If you have fruit, want fruit, or would like to come out and help, connect with us on Facebook at www.facebook.com/Gleaningforlife/ or email us at lillooetgleaning@gmail.com