Immian Wolfe, one of the founding members of LAFS, runs the Organic and Veganic Green Dirt Farm in Texas Creek.  He and his family of five moved back to Lillooet from Aldergrove 5 years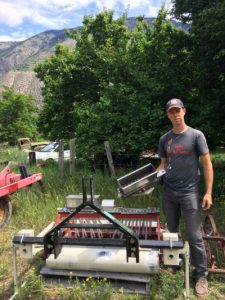 ago to farm.  Green Dirt is focusing on growing salad mixes and garlic this year, and have plans to expand to other crops when they have fine-tuned the systems they have in place.  I went out to Texas Creek to do a short interview with him last week.
Can you tell us a bit about yourself and your family?
"Can you answer that one?" Here's what I can tell you:  Immian was working for Silver Hills as VP Plant Operations, when he decided to move back to Lillooet, where he grew up.  He says a big part of moving back was because the people are friendly here, and he missed his family and the area.  Immian and his lovely wife Kymbreelee have four children: Arycia, Riella, Isaiah and Ellie.  They moved from the coast with plans to enjoy a more relaxed, outdoor, farming lifestyle, and raise their children in the country.
Can you tell us a about your farming practices?
Veganic growing practices mean that Green Dirt does not use any kind of animal inputs in the growing process.  One of the biggest challenges is weeds.  Stale bedding allows for planting with very minimal weeds.  This technique involves targeting weed seeds in the shallow layer of the soil. They are allowed germinate, and then killed by raking through the soil with a shallow cultivator just prior to planting the crop. During the sixteen-week long season, we are planting twice a week to keep up with the demand.  It is possible that we may have to switch to 4 or 5 plantings a week for tighter management of leaf size but for now, two is making the cut!
When did you get involved with LAFS and why?
Right away – I was on the Area B Agricultural Committee.  When the Agricultural Plan was completed, the SLRD was looking for an organization to implement the Ag Plan and LAFS was created.
Where are your products sold?
Green Dirt Farms salad mixes currently come in Baby Spinach, Baby Arugula, Power Salad Mix, Baby Kale, Lettuce and Spring Mix. They are available in Nature's Fare, Choices, Spud/Urban Fare, Quality Foods, Buy Low, Nester's, and the Country Store, and select independent retailers.
What are your plans for the future?
My vision for the future is all about seeing the farm provide for our little family so we can continue to love and work in this amazing area. Over the next couple of years, I intend to get all of the acres we have leased and available into production. Right now the farm is actively using 14 acres of the 24.
As I leave, Immian laughs, "Most people work 9-5, farmers work 5-9, and sometimes a little bit more. With the seasonal nature of only being able to grow things for half the year, you have to work hard during that time."