Gillian Smith operates Gillian's Herbs from her home in the Yalakom. The business sells a variety of herbal products made by hand by Gillian, who has been studying herbalism since 1994. She grows most of the herbs for the products on her homestead, and also locally wildcrafts many of the herbs herself. In the short interview below, you will learn more about her practices, philosophy and how to get your hands on her amazing products. Enjoy! Q: Can you tell us a bit about yourself and your family? A: I am a plant and animal loving multi-tasker by nature and, though as a child was convinced I'd be a veterinarian when I grew up, I started my love of herbs eating wintergreen and pine needles from my rural backyard outside of North Bay, Ontario at the young age of 3.  In high school, my girlfriend and I dabbled in herbal medicine, making love potions, teas and visiting herb shops in Toronto.  In university, it became clear that botany was more to my liking as an academic focus and so veterinary medicine was shelved, and that led me to start a Master's degree at the University of Victoria. There I became quite disillusioned with academics in general and, quite by chance, found a beginner's herb class to lighten my spirit. It was there that my love of herbs and herbal medicine really germinated and I haven't looked back once. I've been taught by some of the greatest herbalists on the planet, traveling as far as Albuquerque to study, returning to BC to sell my wares. I started with a simple salve of Sage and Comfrey which morphed into the now famous Seven Herb Healing Salve. 26 years later, my family of 3 homesteads a piece of paradise in the Yalakom Valley where we grow a wide variety of medicinal and culinary herbs, as well as food crops next to our owner built straw bale home.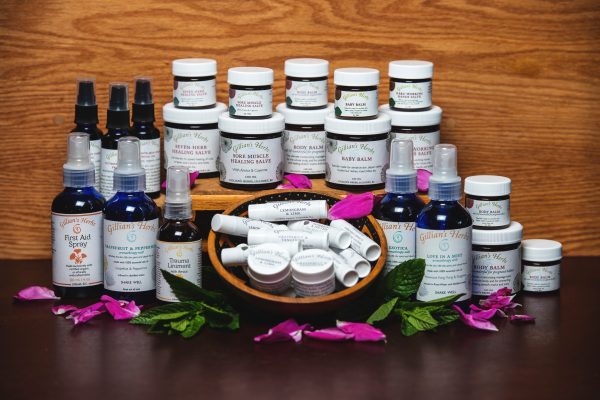 Q: What is your business and what do you grow for it? A: Gillian's Herbs is almost exclusively a one woman run business that produces small batch, high quality herbal products ranging from medicinal tinctures, tea blends, skin care products, aromatherapy products and herbal condiments for the dining table.  I grow the vast majority of the herbs for the products and, at last count, my plant list was at 44 species.  I also wildcraft many herbs from around the area and delight in the knowledge that if my timing is off for harvesting a plant at one elevation, there's a good chance that it's available just "up the road" at a higher elevation!  I am deeply grateful for the gift that plants provide, and am humbled in the knowledge that the ancestors of this land and lands throughout the earth are watching and lending their wisdom as I harvest. Q: Can you tell us about your farming practices?
A: We only use organic growing practices married with a sprinkling of permaculture methods.  I received a certificate in Permaculture Design right here in Lillooet under the tutelage of Alice Kidd.  When wildcrafting, I am strict in using ecological and ethical values when choosing where, when and how much to harvest – away from roads, power lines, train tracks to avoid dust and pollution; only harvest a maximum of 40% of the plants in a given area to leave behind enough for wildlife, pollinators, genetic material; harvest at the right time to get the best quality medicine as well as for when it's right for that species, and so on. Q: What is the best way to purchase your products?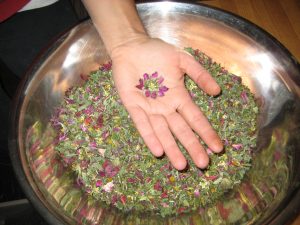 A: Currently, my website provides a good catalogue of my products and contacting me directly is the best way to purchase my products.  Creative Haven on Main Street in Lillooet also carries many of my products.  I'd love to see a permanent Farmer's Market storefront in town set up soon!  I'm game to "man" the shop if the opportunity ever comes!