The annual Harvest Festival in Lillooet year had a new event this year: mini workshops hosted by LAFS, in partnership with the Investment Agriculture Foundation.
Rolf DeBruin, Jean-Sebastien Ouellette, Sam Quinlan and Lesley Provost all put on interesting and informative workshops.  These included a presentation on basic viticulture by Rolf, which covered the basics of planting a vineyard, what to worry about, and what one might get to enjoy growing grapes!
For example, beautiful vineyards views: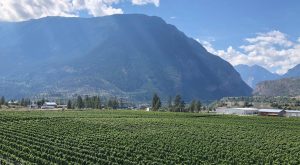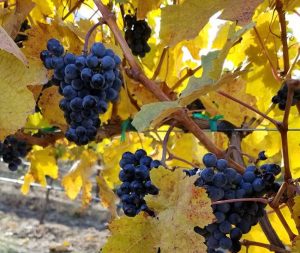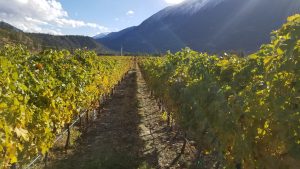 (Photos courtesy of Fort Berens Estate Winery)
Jean-Sebastien
gave a hands-on demonstration of sourdough making – the same bread he bakes daily for
Fort Berens Kitchen
. He taught the group how to make sourdough starter, how to take care of it, and how to get the best crust.  Everyone got to try some bread baked that morning, and could opt in for an email with all the details for trying it at home.
Lesley Provost
, Fort Berens' Sommelier, gave a talk on food and wine pairing with Jean-Sebastien, and participants were able to sample a white and a red from the winery's collection.  The discussion covered which types of wine pair well with food, and questions from the crowd at the end got everyone talking about what amazing local food we have in Lillooet, as well as about
Noma
, a world-class restaurant that is on the frontier of local food innovation!
Last up in our presentation lineup was Sam Quinlan of
Harvesters of Organic Hops
, who brought in a big vine of hops, as well as his processed versions for everyone to take a look at, touch and smell.  Sam's passion for growing hops was evident from the moment he arrived, and it seemed that the group couldn't help but crowd right up to the table to listen and learn with Sam as he discussed many aspects of hop growing, harvesting and processing.
We were extremely grateful to have the support of the Investment Agriculture Foundation, through the Province of British Columbia, in order to be able to put on these workshops.  We hope that we will be able to run more workshops at the festival in the future.
In the meantime, keep an eye out for our Bee Keeping Workshop coming up in October!